The Art of The Magic Lantern 2014
The Art of the Magic Lantern is a new collaborative project by Nicole Mollett and Frog Morris which re-purposes pre-cinema projection equipment to create a new live performance pieces.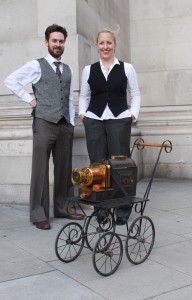 Original photographic glass slides  will be used and mixed with new hand-painted slides. The slides are projected using refurbished lanterns and accompanied with narration. The stories we tell mix traditional magic lantern show themes, such as phantasmagoria, moralistic folk tales and travel, with contemporary issues and humor.
The project will bring together heritage research, drawing, socially engaged art practice, stand­up performance, and story telling.
The Art of The Magic Lantern has been touring South East England since March 2014. So far, thecompany has visited Whitechapel Gallery, Tunbridge Wells Museum, Whitstable Biennial, Faversham Creek Creative and Medway Fuse Festival. More shows are to be announced soon.
For each performance at a new location, new site specific slides are sourced with the help of local museums and collector.
Nicole makes work in sculpture and drawing and will be using her technical skills to paint the magic lantern slides as well as refurbish and operate the projectors. Frog brings to the project many years of experience as a performance artist.