About
Frog Morris is an artist, performer, poet, curator, comedian, designer, stage manager, magic lanternist and bingo caller.
He studied Graphic Fine Art at Kent Institute of Art and Design in Canterbury and Masters of Fine Art at Goldsmiths College. He has created live art for Tate Modern, Barbican, The Royal Academy, Turner Contemporary, BFI, Whitstable Biennale, Whitechapel Gallery, South London Gallery, Edinburgh Fringe and many others. He has also taken his uniquely funny live performance art shows to venues across Europe, most recently collaborating with WTKB in Vienna. In the UK he continues to tour museums and festivals with The Art of the Magic Lantern, a collaborative project with Nicole Mollett that aims to repurposes pre-cinema projection equipment to create shows and workshops for modern audiences, funded by Arts Council England and KCC.
Frog is an experienced art event organiser who hosted over 100 shows at the Montague Arms in South London and for over 10 years ran his own annual festival called Frogstock in Norfolk. As an event organiser, he set out to establish places where musicians, comedians and live artists could share the same bill and showcase their more experimental work, whilst audiences could discover something new and unexpected. His event are often likened to old music hall or Dadaist cabaret and they have provided a platform for many great artists and performers.He is currently involved in developing a number of community projects in South London. He helped re-start the Grove Park Carnival in 2017 (last staged the 80s), contributes every year to Camberwell Arts Festival and manages an ongoing series of live events and community art workshop for Bermondsey Blue. As well as enjoying being creative, Frog loves using his skill and experience to encourage creativity in others and has run numerous art workshops for families. 
Frog Morris is fascinated by absurd idiosyncratic moments in English culture. His is world of pub quizzes, bingo calls, meat-based snacks, low budget sci-fi, real ale, bow-ties, poetry, DIY punk aesthetics, folk songs and stories about woodland animals. He is concerned by the traditional, but unconcerned by the conventional. Performances are usually delivered with his own subversive twist. Sometime his work is laugh out loud funny. Sometime it is profoundly unnerving. The audience are usually left unsure about what to expect next from him.
Though perhaps best known as a performance artist, Frog Morris is also a skilled draftsman and designer.  His shows are usually complimented by his own illustrated posters, drawings, comic strips, sound recording, videos and handmade props. When not performing, he uses these skill to produce work for museums, festivals and others clients. He has employed his creative skills in many areas, both public and commercial, including a number of online campaigns with Champion Agency in Brixton. He worked with Sing London to design the Wonderpass by Baker Street Underground and contributed to Search Party, Talking Statues and Ping! England events. During COVID-19 his cross-disciplinary experience has helped to bring projects and campaigns online including Blu Hope World Ocean Week, Camberwell Arts Festival, Jump for Dystonia and Discovering and Documenting England's Lost Jews.
Frog Morris loves to work collaboratively and you may will often see him side-by-side with Mark Dean Quinn, Daren Callow, Nicole Mollett, Theo Morris, Joanna McCorrmick, Dr. Lee Campbell and many other talented artists, musician and performers.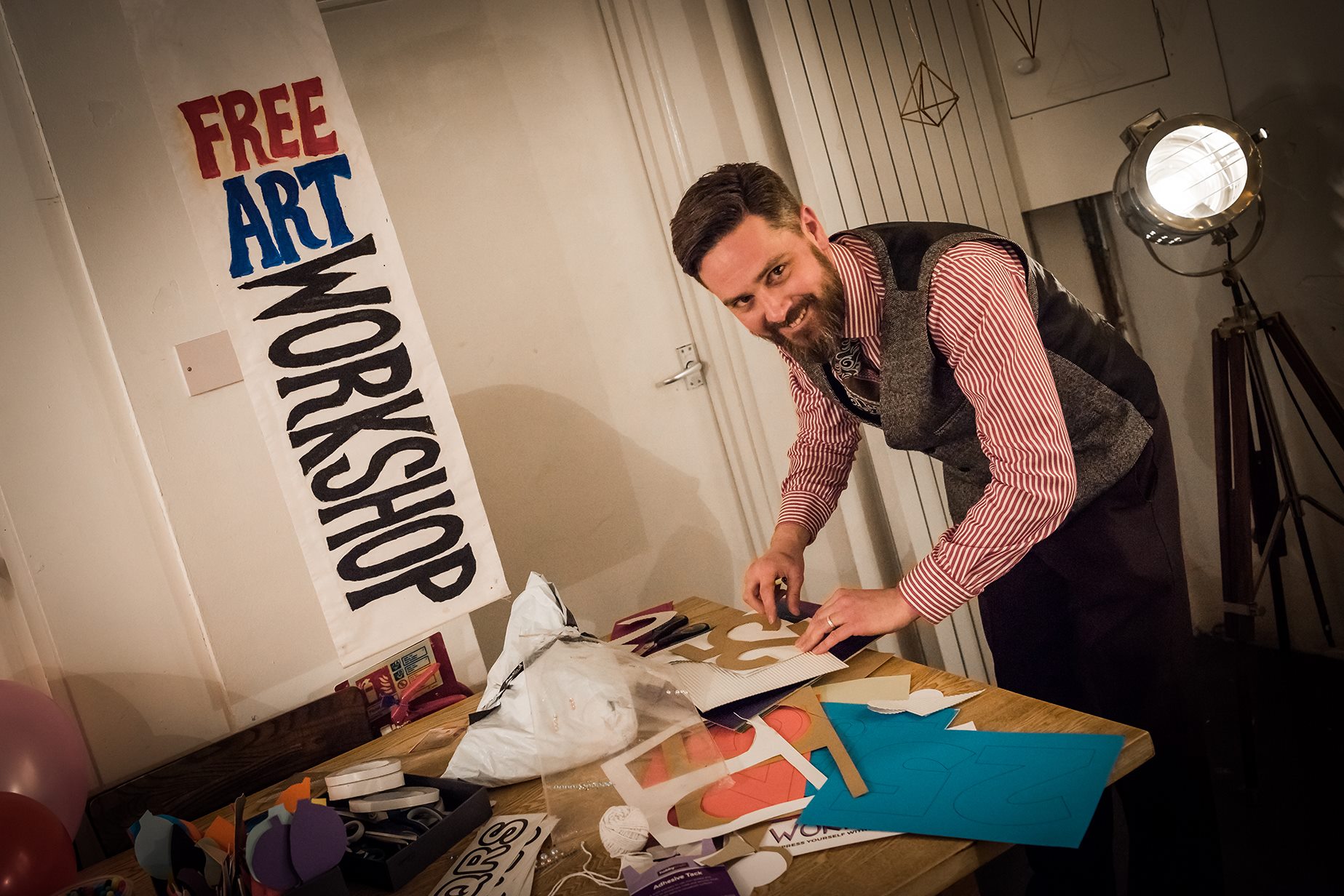 Photo thanks to Camberwell Arts