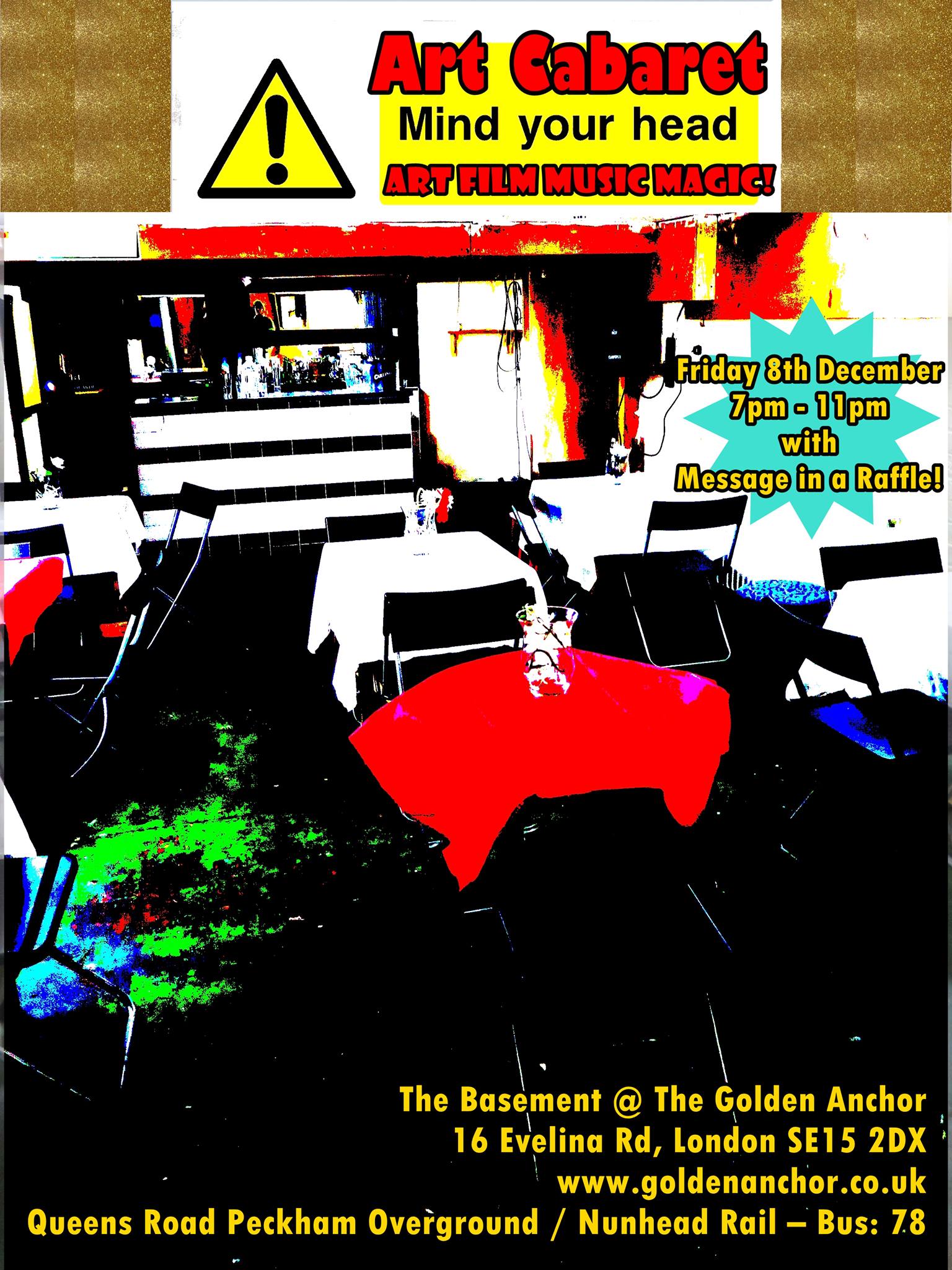 MIND YOUR HEAD! Art Cabaret
Friday 8th December – Performances 7pm until 11pm
The Golden Anchor Bar open until 2am
The Basement @ The Golden Anchor
16 Evelina Rd, Nunhead, London SE15 2DX
www.goldenanchor.co.uk
Queens Road Peckham Overground / Nunhead Rail – Bus: 78

You are invited to an intimate evening of art, film, magic and live performance with:

Steve Bowditch
Kamura Obscura
Moon Moon Sing Sing
Frog Morris
Sarah Sparkes 
Charlie Fox
With your Hosts: Spruce Monkscyth (Calum F Kerr) & Caroline Gregory
Entry £5 donation receives a ticket to win an artwork in 'Message in a Raffle' presented by celebrated auctioneer and TV host, Spruce Monkscyth.
Buy raffle tickets for a chance to receive an artwork in response to 'A Message to…' by Sooz Belnavis – Sarah Doyle – Phillip Raymond Goodman – Miyuki Kasahara – Rosie Lee – Julia Maddison – Joanna McCormick – Jude Cowan Montague – Julie Pickard and many of the performers above.

Mind your Head! Our bar is set high but the ceiling is low. Height 6ft 4, so tall people leave your hats at home!
Due to a flight of stairs the basement is not a fully accessible space.
Queens Road Peckham Overground / Nunhead Rail – Bus: 78