I'm sure you have all heard of thinking outside the box but what is inside the box?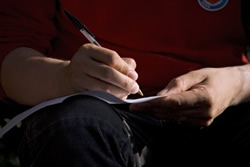 The Unwrong Quiz celebrates people who can't remember the capital city of every country in the world or who won the FA cup in 1932, but might think of something useful to do with a ball of plasticine, twelve meters of garden hose and David Hasselhoff's chest hair. The audience are asked to write stories, make up jokes, draw pictures, compose poetry and deface diagrams, with the best answers winning a prize.
The Unwrong Quiz is hosted by Frog Morris and Mark Quinn with special guests providing entertainment between each round.
How it all began...
Frog and Mark met at Canterbury Art School in 2001. Mark first devised an early version of the quiz in response to a rather random trivia quiz given by an eccentric lecturer during a 13-hour coach trip to Berlin.
After graduating Frog Morris went on to study at Goldsmiths Art College and he has worked alongside some of Britain's best loved contemporary performance artists including Bob & Roberta Smith, Kim Noble, Gary Stevens and Mark McGowan. Mark Quinn has been working as a successful visual artist and as a reluctant salesman in retail.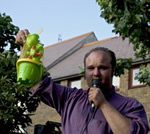 The pair began performing together again in 2007 when Frog started hosting a regular night in famous London boozer The Montague Arms and Mark became a regular stand-up comedy act. Following a last minute cancellation, Frog suggested they recreate Mark's improvised nonsensical quiz to fill the slot. It proved popular with locals, who had a loathing for tedious trivia quizzes, and the Unwrong Quiz developed into a regular fixture at the pub. The participatory and creative nature of the quiz means it has also proved a popular feature at live art events and festivals.
Photos by Victoria Morris (header) and Simon Stevens (main page)