Illuminate Bermondsey & Rotherhithe 2019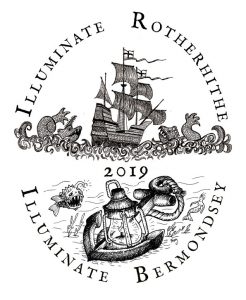 A FREE ANNUAL AUTUMN FESTIVAL INSPIRED BY THE HISTORIES OF THE THAMES, THE DOCKS AND MIGRATION
THE LANTERN PROCESSION AND LANTERN-MAKING WORKSHOPS
Workshops though-out October and November
FREE LANTERN MAKING WORKSHOPS for ALL
Saturday 26th October 12 noon Made in Bermondsey The Blue Market Place Bermondsey, London SE16 3UQ
Saturday 2 November 10.30 am Mayflower Hall 1 Neptune St Rotherhithe London SE16 7JP
Wednesday 13 November 2.00 pm Cherry Garden Hall 210 Jamaica Rd Bermondsey London SE16 4RT
Friday 15th November 4.00 pm T&T2 Surrey Quays Shopping Centre Redriff Rd Rotherhithe, London SE16 7LL
Saturday 16th November 10.30 am Blue Anchor Library Market Place Bermondsey SE16 3UQ
Saturday 16th November 2.00 pm The Gregorian pub 96 Jamaica Rd Bermondsey London SE16 4SQ
Saturday 23 November 11.00 am Canada Estate Hall Moodkee Street SE16 7BD at the junction of Renforth St
Saturday 23 November 3.30 pm T&T2 Surrey Quays Shopping Centre Redriff Rd Rotherhithe, London SE16 7LL
Tuesday 26th November 6.30 pm Beormund Centre 177 Abbey St Bermondsey London SE1 2AN
No Booking Required. Art workshops are lead by Frog Morris.
All Welcome to the Bermondsey and Rotherhithe Lantern processions
Friday 29th November www.illuminaterotherhithe.co.uk
For teachers and community group leaders
Frog Morris is offering the following Lantern Making workshops to local community groups and schools.
Lanterns made from card
These are cut out and glue together and decorated with pens and collage
Download Lantern Template a4
Recycled Lanterns
If your group can collect some empty clear jars we can decorate them with tissue and silhouette shapes and turn them into jam jar lanterns. These have been popular very so far as the kids get one each and there is plenty of scope for unique creativity with decoration. Plastic jars are safer (eg. nutella), plastic cups are also work fine or plastic bottles if we cut the tops off.
Willow Lanterns
these are the larger lanterns made from willow withy shapes. They are bit more complex and time consuming so recommended for 7 years plus. They need somewhere to dry overnight.
Magic Lanterns
We can learn how to do make simple projections if you have a dark space.