4.30pm Bank Holiday Monday 27th August 2012
Take a trip out to the lavishly refurbished Bell Inn in the beautiful Sussex countryside for a bank holiday afternoon of random entertainment.
Performance artist and comedian Frog Morris will be calling the bingo. Previous Comedy Bingo shows have seen poets writing their own bingo calls, numbered ping-pong balls and being served out into the audience and even a Mexican wrestler diving into a pool filled with bingo balls. There will be loads of prizes to give away, including artworks and inventions made by Frog Morris, as well as t-shirts, sweets, toys and electrical goods.
The quirky décor of the Bell Inn, with French horn urinals, stuffed squirrels holding up the ceiling and bowler hat lampshades, makes this pub the ideal setting for some unorthodox holiday entertainment.
Frog Morris is known for creating live art events which have a playful element of eccentric humour. Previously he has worked on Edinburgh Fringe hit 'The UnWrong Quiz', a pub quiz with no right or wrong answers, and he also instigated a sea monster invasion of Turner Contemporary, Margate, in 2011. You can learn more about his work on his website www.frogmorris.net
The Bell Inn, High Street, Ticehurst, East Sussex TN5 7AS (in the stable)
www.thebellinticehurst.com
www.frogmorris.net
Entry £5 - Book your seats at the bar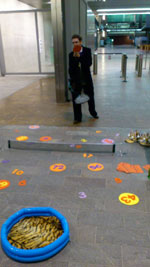 Image left : Pingo (table tennis bingo at the Ping London Tournament, July 2012). Photo by D. Callow
Image right : Wrestling Bingo (Camberwell Arts Festival, June 2012). Photo by V. Morris